Shaking with Flower Power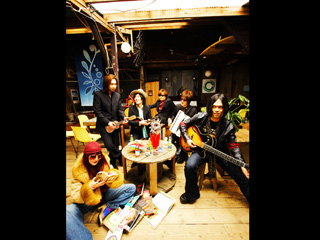 Soul Flower Union have a great back story. The band rose out the ashes of two Osaka-based punk groups, Mescaline Drive and Newest Model, back in 1993.
Then when the Kode Earthquake demolished the port town two years later, they really found their voice, wandering through the aftermath and playing acoustic sets to lift spirits. The experience put them on that most unusual of trajectories in Japan, politically informed artistry. While there are hippies a plenty on the islands, and they surely have their own views on the powers that be and the history that put them in place, you hardly hear those opinions spoken of publicly. Soul Flower Union, however, wears its politics on its flowing sleeves, supposting minority groups in Japan and antiwar campaigns throughout Asia. (But don't tell them that: Street spirits plug in and out.)
Combining traditional song writing and instrumentation with a jam band spirit, SFU are almost like The Pogues for Japan. Ok, if Billy Bragg was fronting The Pogues, and he was sober of course.
-- Donald