Ripped in the rain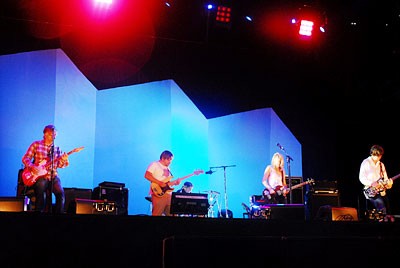 Like Mogwai, Sonic Youth is one of those foreign bands who it seems is willing to play every Fuji Rock if given the chance. (Rumor has it there's some kind of limitation--two years in a row then one year off.) They don't come here to make a buck or spread the word. The come because they dig coming, and the New Yorkers did their damnedest to cheer up the rain-soaked early evening Green Stage crowd on Saturday. Thurston Moore made the needless introductions before a note was played, but rather than seem gratuitous it created the needed feeling of community. "We're always happy to come to Japan and see your beautiful faces," he said, and you had to believe him.
Still, Sonic Youth is not a band to stand on ceremony, and they played almost the entirety of their new album, "Rather Ripped," during their hour-long set. For many groups as long-lived as SY this could have been a disaster, but "Ripped" is the most song-filled album they've made since "Goo," and, even better, it features Kim Gordon singing on five cuts. Having missed the group's Japan shows the past three years (even if they don't play Fuji every year, they manage to make it to Japan in some capacity) I wasn't aware that Kim now will sing her songs solo, which is one reason they brought along Mark Ibold, the bassist from Pavement, as a utility player. Jim O'Rourke, who was a member of the group for the last five years, didn't play on "Ripped" but he showed up to play the Green Stage, apparently because, according to Moore, "he lives in Tokyo." I didn't know that.
Though the songs on "Ripped" aren't as expansive as they usually are on SY albums, Lee and Thurston found opportunities to bring out the old drumsticks and saw away at their guitars. The kids loved it, but not as much as Kim's singing. Dressed in a saucy mini-dress and tights, she go-go danced through "What a Waste," "Turquoise Boy," and the transcendant love song "Reena." On the relatively low-key "The Neutral" she had the crowd in the palm of her hand. Thurston got his own solo slot with "Sleeping Around" and Lee's "Rats" benefited from a clean mix that delivered the pristine separation of those twin guitars we know and love so well. As a rock show, the set was perhaps too slack, but when it hit its occasional stride it cooked with gas. Leaving us, Thurston remembered what this festival was all about. "Be sure to support the planet as a peaceful rock." Rock is definitely the operative word.