Have You Seen My Passport?
I lost it in the mud at the Yeah Yeah Yeahs last night, but, oh my God was that a great show!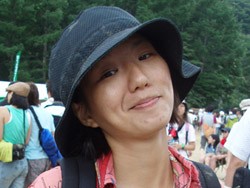 What Fujirock misses from the Dead shows of my youth is the randoms in the parking lot with "Need a Miracle" signs. So at a festival where being over-prepped is the norm, it's good to see someone rocking at all costs. Enter Mingyi.
From Taipei, she is an occasional concert promoter and more full time runs a small rocker cafe in an arts. Last week she came to Japan, first staying with friends in Kyoto she met through Couchsurfer.com. It took her 15 hours to hitchhike to Naeba, including four big rig trucks and three cars. On the free shuttle bus from Echigo-Yuzawa, she met two Japanese girls with whom she's now sharing a tent.

I found her in the parking lot Friday afternoon bargaining for a ticket outside the official goods store, which she ended up buying from someone whose friend couldn't come. This left her with \4000 for the weekend and to get back to Tokyo (if anybody has space in the car...). Then she lost her passport.
"I think it fell out of my bag - I just had everything dumped in there and it fell out. It was in the mud during the Yeah Yeah Yeahs..." she shrugs. "But oh my God, that was a great show! Wow!"
So if anyone finds a Taiwanese passport for Mingyi Chin, please turn it in to the Lost and Found area, which is near the Message Board in the Oasis. Otherwise, she may have trouble making her plane. The ticket expires on Tuesday.