Band of Gypsies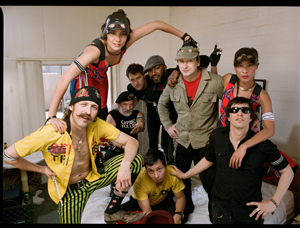 Lock your doors. Hide your women.... Aw hell, bring out the bottle. Gogol Bordello's in town.
I'd have to agree with Jeff's earlier prediction and surmise that one of the staff faves this year will be Gogol Bordello.
Mixing balkan folk with punk attitude, this international hodge podge has earned some of the loudest buzz of the year. Interview here. More info and live show here.
Rock guru Robert Christgau said in an interview last year "See this band before they keel over". They are meant to be heard (and seen) live. A few example here, here and here.
Eugene Hutz, the Ukrainian singer and ersatz leader, has a knack for performing. In fact, you may have seen him on the silver screen as well (without the moustache, tho)
JINKI