The Kiddies Are Alright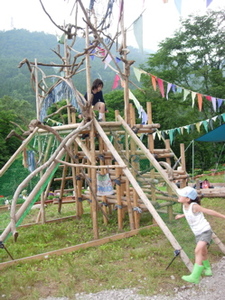 Lately, more and more of my friends and family are settling down and having children. I guess, you know, becoming adults. And nowadays when the topic of Fuji Rock Festival comes up in late spring, their demeanor becomes wistful. A thousand yard stare comes over them. A silence, a letting go. They look over at the sleeping or cat terrorizing toddler, and say, "I'd love to go, but...well..."
Well I say: Have no fear! Bring the ankle biters...err...little angels. Fuji Rock Festival is officially Kid Tested and Mother Approved!
Over the past couple of years, a few of us have been writing on the children that attend Fuji Rock Festival (and the parents they drag along with them) over at the live from the festival blog Fuji Rock Express.
The festival is an experience for people of all ages.
Children under twelve years are admitted free of charge, accompanied by their caregivers. Here's "The Official Blurb":
"Primary school age children or under 12 years of age are free to enter the site as long as they are accompanied by their caregivers. Kids Land (children's play area) will be available for guests with children.
If you need a nappy/diaper changing and/or nursing place, you can use Kids Land and/or the rescue tent although we don't supply nappies. However, please refrain from using the rescue tent for the children's rest and you must not leave the children there unaccompanied."
That's well and fine to read, but is the play area just a mud puddle? Or something more extravagant?
Jinki posted an excellent overview last year as he reported live, on the scene, from the FRF Kids Land here while he got to know his inner (or, umm, outer) child.
And some more from Fuji Rock Express '06, proving that every where you go, the kids wanna rock!
Kids Rock and Kids Rock: Fuji Rock Families
Jeff