Cover Art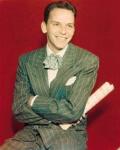 Cover songs have a mixed legacy. When done right, they can be incredible. Even mystical. When done wrong, they border on criminal.
What to expect this year?
Fujirock is always fertile ground for bands wishing to dabble in an idol's material or show the audience where they're coming from. A few years back indie-roots darlings, My Morning Jacket, started their set with Prince's "I could Never Take the Place of Your Man." Local favorites and Fujirock regulars, Yo La Tengo, can cover a dozen songs in one set, from The Beach Boys to the Ramones. And who can forget Gnarls Barkley's Violent Femmes cover?
And this year? Well there's Boosty for one. Hell, his entire gig will be one big set of JB covers. Janet Klien, too. An avid collector of old Victrola records and 1920's sheet music, she has dedicated her life to recreating songs of her crumbling collection. Her intimate performances can be quite similar to this (except in color).
It's possible the Gossip could bust out some R&B. And Rodrigo Y Gabrbiella will almost certainly crank out flamenco versions of a few rock legends. But my safest bet is on CSS. They've recently covered a now classic Breeders' song, and since the Breeders will be in Naeba as well, I can't see how they could pass that up.
Any other cover predictions I've missed?
JINKI