P.O.W. Watch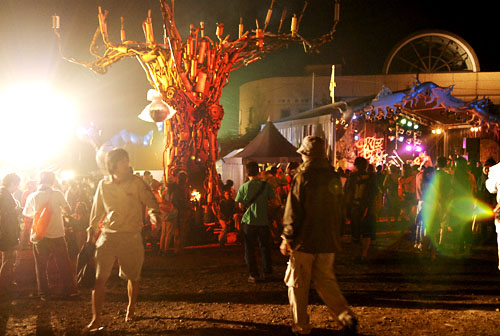 Anyone who has spent time at the Palace of Wonder in the Wee hours knows you are bound to see some of the bands staggering about. But who's likely to be partying in the big tent this year?
There a few givens: Gogol Bordello, Rordrigo Y Gabriella and Sheena & the Rockets will all perform there, and Primal Scream seem to always be around (this year more than ever...).
Some of the lunatics that put POW together are Brits here fresh from Glastonbury (see some of their handiwork here, here and here), and that can draw fellow countrymen like Kasabian, the Courteneers and the Zutons. And when the DJs start playing old-school soul and R&B, perhaps we'll see Jamie Liddell getting down.
If I had to guess on others, I'd place my bets (hopes?) on the Brazilians. Saturday night the Cumbia Kid performs in the Crystal Palace, and if we're lucky, Very Be Careful will play another guerilla set (one year they played from the back of a moving truck). That might bring fellow countrymen, CSS.
Or one can dream.
Jinki
Photo by Naoaki