Friday will you clammbon?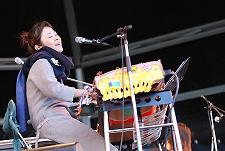 While on Saturday night there is clearly going to be a funky traffic jam at Fuji, the Friday 9 pm slot on the major stages is breaking clean along lines that won't require you too think to hard about where your allegiances lie.
Brit Rockers: Please head to the Green Stage to see Oasis. Enough said.
Nostalgics: Proceed to the White Stage for some American R&B/Soul -- with the Neville Brothers in the house tonight for a little Fiyo on the Naeba Bayou.
Feeling trippy/dancey: You are at the Orange Court for an outdoor lounge experience with System 7. Don't forget your glow sticks.
Leaving the Field of Heaven, where jazzbo-electro trio clammbon have a two hour set under the disco balls in which to keep J-Pop fans swaying to piano-driven jaunts. Keyboardist Ikuko Harada, drummer Itou Daisuke and bassist ''Mito'' are returning as a group after two years of recording silence with a new single, "NOW!!!" which they will release on August 1. Each member does plenty of side projects though, so that doesn't mean they have been sitting idle. Expect to hear some new material and probably bits from each of their solo projects.
-- Donald
Photo: By hanasan at Asagiri Jam/www.smashingmag.com