White Lies for Killers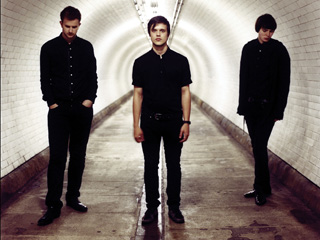 Though Paul Weller is replacing The Killers in their timeslot, I doubt that he'll replace them in the hearts of Killer's fans (one can always hope though). But no worries, there is a band that could do it and become that new hot fuss that Japanese K softies are looking for: White Lies.
With a similar driving alternarock sound powered by an electric edge, the three piece (four piece live with the addition of a keyboard player) from Ealing in London are also playing the Green Stage on Friday (12:30-1:30). Think of them as The Killers with more of a death wish and less sunny Mormonism. With singles such as "To Lose My Life," "Farewell to the Fairground," and "Unfinished Business," I guess they have the right to title the lead page on their Web site ''The Summer of Death''.
White Lies -- who were formerly called Fear of Flying -- was awarded Best New Band in 2009 by NME, and has a suitably long Wikipedia entry for a band that started in 2007 to vouch for them. (Favorite line: Fear of Flying disbanded in October 2007 with a MySpace bulletin stating "Fear of Flying is DEAD ... White Lies is alive!", before introducing a darker sound and a new name that reflected their maturity.'') Sunny day or stormy whether, White Lies should do fine as a Green stage warmup.
--Donald