Street Sweeper Social Club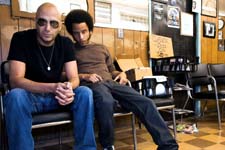 His father was Kenyan, his mother a white American. He attended Harvard. He hails from Illinois. He developed an early interest in politics. And Rolling Stone rated him the 26th greatest guitarist of all time. He's Tom Morello, of Rage Against the Machine, Audioslave and most recently, Street Sweeper Social Club.


Among the gazillion guest spots Morello has agreed to, he played on and produced The Coup's 2006 album 'Pick a Bigger Weapon'. His relationship with the band's Boots Riley blossomed into SSSC, the rap-rock "supergroup" that's been out on tour with Jane's Addiction and Nine Inch Nails recently.
Stanton Moore, who was at Fuji Rock last year as the drummer for Galactic, was also part of the line-up for the recording of the eponymous SSSC debut album, out last month. You may recall that Riley appeared on stage at Fuji last year with Galactic. There's no news about whether Moore will be Riley's guest this time.
SSSC have the 12.30pm slot on Sunday on the Green Stage, so you can laze around on the grass, easing out of your hangover to gentle rap-rock lullabies such as "Fight! Smash! Win!", "100 Little Curses", and "Megablast".

Get a blast of their first single here:
Get a taste of their full album here:
Take a look at their Myspace friend list here:

http://www.myspace.com/streetsweepersocialclub
--
coglione