Billy Boy On Poison: White Stage...yeah I never heard of 'em either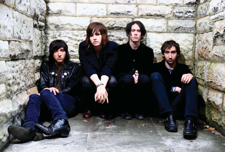 They don't have an album out yet and they aren't legal to drink, but L.A. rock band Billy Boy On Poison do have a "charismatic lead singer" and "principle troublemaker" (and other cliches, according to the bio on their Facebook site penned by Lonn Friend), and a slot on this year's White Stage on Saturday. This one's a head scratcher...
To be sure, they have some Hollywood weight behind them. Their label, Ironworks Music is owned by Kiefer Sutherland and another product of the 80's, Jude Cole. Don't remember Jude? Either did I, so here is a memory jog:
ANYWAY, while I say they don't have an album out, they will tomorrow apparently. Called Drama Junkie Queen it has already found it's way into the hands of some dude who writes for The Guardian, and he has this to say:

"You want to hate BBOP, you really do. Problem is, they go and spoil it all by doing what they do so well. Of the five tracks we've heard, Angry Young Man is boogie so louche it makes you want to grow a beard and drink Jack Daniel's, Four Leaf Clover is a slow-burning epic and On My Way is a statement of intent to rival Noel G's Rock'N'Roll Star. Standing Still sounds like the Strokes in a Velvet Goldmine and makes you wonder why Leduke and his pals didn't just do 10 covers of Suffragette City and cut out the boring matter of writing original songs."
Wow. It's the only article I wanted to dig up on them. I felt reading any further or actually listening to them would ruin the whole fucking thing for me. I want rock to be dirty and scuzzy and glam and ironic posing - but I also think you gotta have some cred. I think you gotta get laid before you write about sex, have your heart trampled before you write about bitches, and open for nobodies at backyard parties before you play the Whiskey.
The band playing before them (Yokohama's 9mm Parabellum Bullet) can sell out Blitzes and Zepps and Quattros, headline Japanese festivals, and have three or four major label releases out.
BBOP have...ummm...a name taken from Kubrick's A Clockwork Orange and a video directed by the Emmy Award winning Hollywood heavyweight himself, Kiefer Sutherland:
So it's kinda strange that they land a White Stage gig with Rookie A Go-Go credentials. It makes me think their chaperon just might be Jack Bauer (and perhaps there's more celebrity addresses - remember Orlando Bloom launching the Global Cool campaign as a stand-in for Leonardo DiCaprio?).
Anyway, maybe these kids have what it takes, and maybe I should shut up, but I'll walk by the White Stage on Saturday afternoon to find out.
Check out their JET fueled sound on MySpace. (Or go see JET on the Green Stage later on the same afternoon.)
Jeff