Overflowing With Talent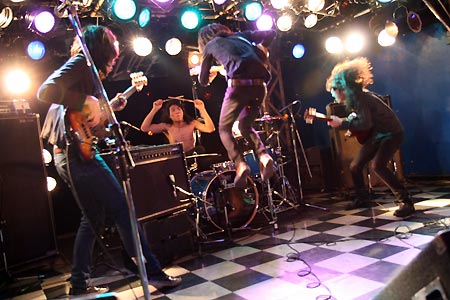 Like the most-excellent Mass of the Fermenting Dregs (check out Jeff's post on the gals here), this summer will see Tokyo's A Flood of Circle making the jump from Rookie A Go-Go to one of Fuji's more prominent live spaces.
Formed in 2006, A Flood of Circle made their FRF debut on 2007's Rookie A Go-Go stage where they showcased cuts from the eponymous EP they had released two weeks prior. In 2008 they issued their second EP, Melody of Muddy Water, and an eight-song live disc entitled "Before the Flood Three."
With their fan base continuing to grow, the quartet decided it was time to craft a proper, full-length album and subsequently unveiled "Buffalo Soul" this past April. The record's dozen well-crafted cuts mix elements of blues and classic rock with modern day alt-rock. The strength of "Buffalo Soul" coupled with the group's previous FRF experience should make it quite easy for them to keep the large number of enthusiastic spectators that are likely to gather to see them entertained at this year's fest.
A Flood of Circle are currently touring Japan in support of "Buffalo Soul." Their gigs are listed here for those hoping to catch them before Fuji Rock.
A Flood of Circle's MySpace site is here.
Check out a review of "Buffalo Soul" from The Japan Times here.
Smashing Mag's got a ton of live photos of the band dating back to 2007 here.
Shawn
*Photo by Miyuki "Sam" Samata and used with permission of Smashing Mag